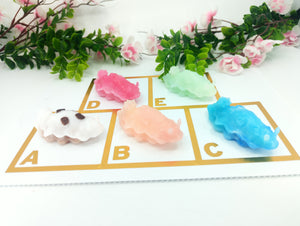 Small Sea Slug- Group 4
This is a listing for a small snail. You can pick 1 (or more) individually out of the 2-5 displayed here. Small Moluscs are cast in a variety of firmnesses which are not documented individually.

Please Note:


Due to the small scale, and hand-crafted nature of these critters, small and medium squishies may feature small air-bubbles or scuffs. These are not considered flaws, but are a result of them being cast at such a small scale and being hand-finished.