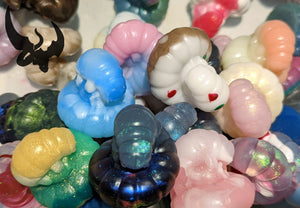 Add On ** (Please Read) Small Kecil - Random Pick
New! Please Read
Due to the cost of shipping materials, small mantises will be add on only unless you purchase them in quantities of two or more. Single small Kecils will not be shipped on their own. Thank you for your understanding!
This is a listing for a single small-sized Kecil (Caterpillar). The item you will receive is random, and may not be one of the ones you see displayed. 
Small Kecilss are approximately 1.8" tall.  
Kecil was designed and sculpted by sionidae on twitter. 

Please Note:
Due to the hand-crafted, hand-finished nature of this item, there may be minor cosmetic variations/imperfections. These are not considered flaws and will not be subject to any further discount or refunds.