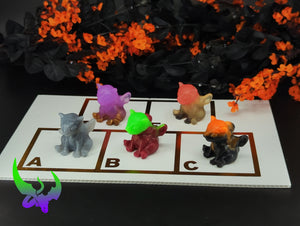 Panther Gargoyle - G1
This is a listing for a single molusc or gargoyle squish critter- the item displayed in the photo is the exact item you will receive. Pick the letter which corresponds with the critter you'd like to purchase in the drop-down menu.

All Gargoyles 2" tall. Gargoyles and pocket squish critters are not intended for small children, pets, or babies. Gargoyles are made out of platinum silicone and are skin-safe and body-safe (unless otherwise specified) though are not intended for internal use.
Please Note:

Due to the small scale, and hand-crafted nature of these critters, Gargoyles of all kinds may contain small air bubbles or scuffs. These are not considered flaws, but are a result of them being cast at such a small scale and being hand-finished.

Imps, Dragons, T-Rex's and Gators are especially susceptible to air-bubbles on the underside of the chin- usually these are repaired and are not noticeable. Pegasus hares may have shorter horns or repaired horns. Wings, horns, and other features may not always come out perfectly.